Return
Beslag Online offer a right of withdrawal for 60 days, valid from the day you received your goods. The goods need to be returned in unchanged condition in order for you as a customer to receive full credit. Any costs incurred in returning the goods shall be borne by the buyer. We do not offer any free returns as part of our environmental thinking. It is you as a customer who is responsible for the package arriving to us, hence we recommend that the package is sent with tracking. If you decide to return the goods, fill out the return form and return the goods to us. Click here to print out the return form. Once we receive your package we will check the products and then credit you what was returned to us.

How to return your order:

1. Sign in on the website.

- When you're on a computer: 





- When you're on a phone: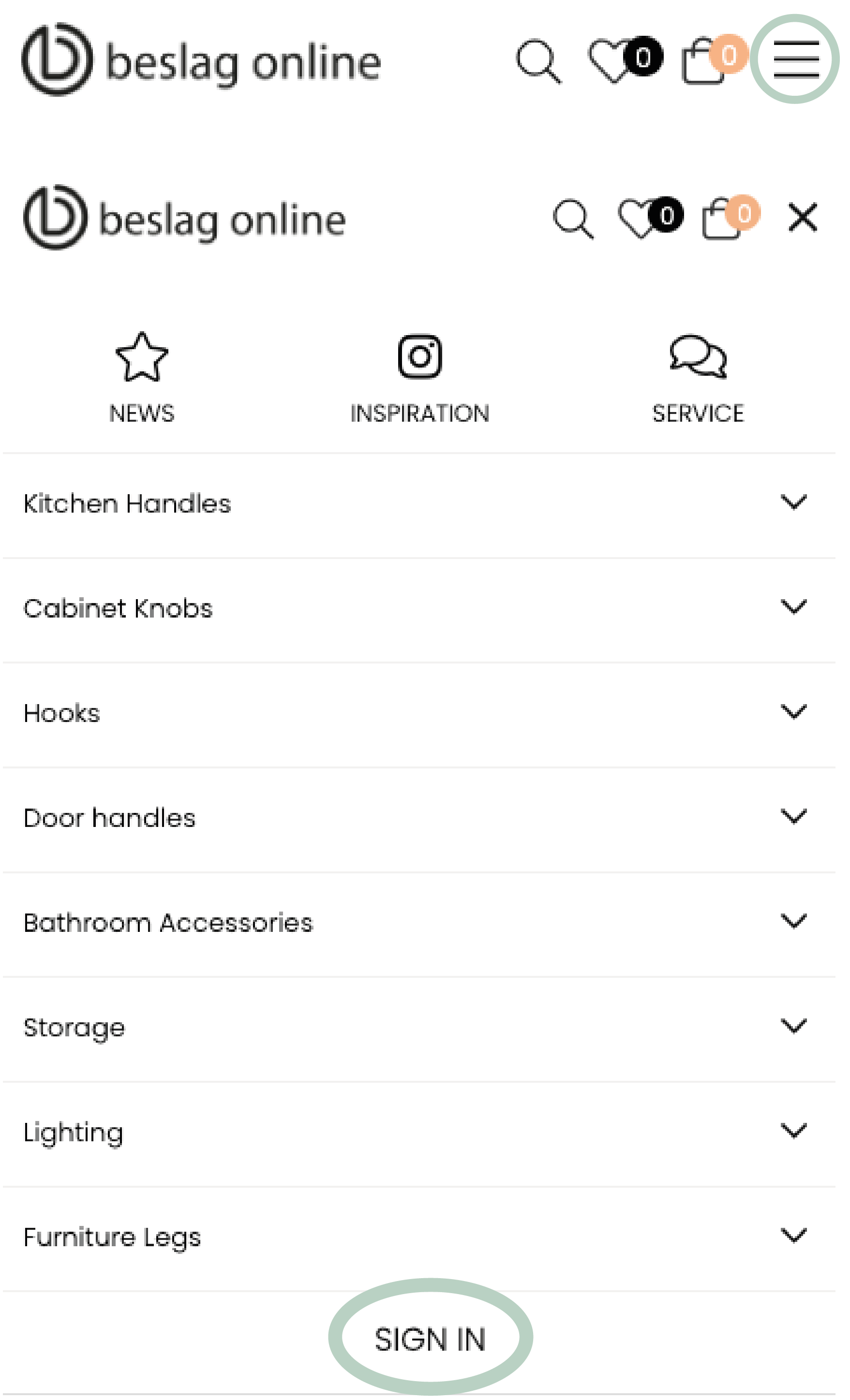 2. Click on return.

- Choose the order you want to return.

- Choose which products to return. Fill in quantity and reason.

- Leave a message if needed (optional).

- Click continue, that's it!

3. Contact our customer service on info@beslagonline.com to receive a return label and then submit your package. More info on how to submit your package can be found below.

4. You'll receive an email when we have registered your return request. NOTE! To make a correct return, you need to fill in your return request online before returning the order. 

How to submit your package:

After you've registered your return online, prepare your package. Contact our customer service on info@beslagonline.com to receive a return label. After receiving the return label, submit the package to your nearest FedEx location, you can find locations on their website. The return fee of €5 will be deducted from your refund.

Use the same box in which you received the products. Make sure that it is properly sealed so that the products will be delivered in good condition.

Have you received the wrong product or is your product broken? If you need to make a complaint, contact info@beslagonline.com and our customer service will gladly help you further.


The following address applies when returning:
Beslag Online
Inre Kustvägen
32269 43 Båstad
Sweden


Claims
In the event of any errors or deficiencies related to Beslag Online's products, it must be pointed out within a reasonable time after the possible error is discovered. It is the customer's responsibility to show the fault and to explain how the error occurred. Should you discover an error please contact Beslag Online as soon as possible. In general, you can only claim an error that occurred within two years of the item being delivered to you. According to the Consumer Purchase Act, you as a consumer have a 2-year warranty, which means that you can get the product repaired, exchanged, money back or reduced price for showing errors or defects. It must be clear that there is a fault or lack of the product in order to be able to invoke any of the above.
If you want to advertise a product you can do so by contacting customer service via email info@beslagonline.com. In the email you describe the error and send with your order number, please attach pictures with the product to speed up and facilitate the complaint handling.

Once you have received confirmation from us about approved complaints, return the product to the address below:

Beslag Online
Inre Kustvägen
32269 43 Båstad
Sweden