LED-Profile LD8104 - 2000mm - Aluminum
Our lowest price 1-30 days before price reduction:
BUY TOGETHER WITH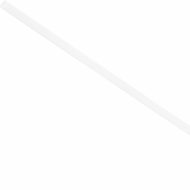 Free delivery over €49
60 days right of withdrawal
Hard to decide?
Order your favorites and test which products fit best.
You always have 60 days to return your products.
Description

LED Profile LD8104 is a minimalist LED Profile that is only 6mm wide. For the profile, there are two lens hoods that both provide a perfect fit but a different look depending on your wishes. Lens guard A is as wide as the profile, 6mm which creates a symmetrical result. Lens protection B, on the other hand, is slightly wider than the profile and has a dimension of 8.8 mm, which creates an overlapping effect.

The profile is used together with the LED strip Flexy 2216 HP4, it is 4mm wide with 240 diodes per meter.

The LED profile can be mounted recessed or surface-mounted, regardless of mounting, the LD8104 is very discreet and provides a flattering light.

The picture shows a pre-assembled product with all its parts. Therefore, it is a good idea to supplement the LED profile with the desired diffuser(A or B), LED-stripes, end caps and drives.

Dimensions & assembly

| | |
| --- | --- |
| Recessed Depth: | 10,5 mm |
| Recessed Width: | 6,5 mm |
| Length: | 2000 mm |
| Width: | 6,4 mm |
| Finish: | Aluminium |
| Model: | LED-Profile |
| Style: | Modern |
| Brand: | Beslag Design |

More info & care advice


Brand - Beslag Design
Beslag Online is part of Beslag Design, which has more than 50 years of experience in the areas of fittings and interior products. Beslag Design started its journey in 1972 and today has Sweden's widest range of handles and knobs for both kitchens, bathrooms, wardrobes and furniture. With over 1,000 different models to choose from, there really is something for every style. Beslag Design are known for their high quality and breadth of range that captures the latest trends.
"Details that make the whole"


Delivery & return


Delivery information



Delivery to service point - UPS €5.33

Free shipping on all orders over £49

Delivery 3-5 days on stock items



Delivery to service point - DB Schenker €5.60
Free shipping on all orders over £49


Delivery 3-5 days on stock items


Please note that the delivery time is based on the products you have ordered, on our website, an approximate delivery time is shown for each product. This is the delivery time that applies unless otherwise stated.

Return information


Beslag Online offers a right of withdrawal for 60 days, valid from the day you received your goods.

The goods need to be returned in an unchanged condition in order for you as a customer to receive full credit. We do not offer any free returns as part of our environmental thinking, there is a return fee of €5.