Cabinet Knob T Crossing - Oak/Black
Our lowest price 1-30 days before price reduction:
BUY TOGETHER WITH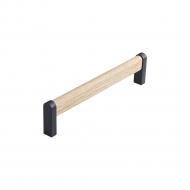 Free delivery over €49
60 days right of withdrawal
Hard to decide?
Order your favorites and test which products fit best.
You always have 60 days to return your products.
Description

T Crossing is a modern wooden knob from Furnipart where the handle is made of wood, and the foot is made of metal. An exciting mix between wood and metal creates a trendy expression while providing warmth.

The grip on the knob crossing is made of wood, and the material used to produce the handle comes from responsible forestry that considers the environment and people.

Wood is a living material that can differ in color and texture; as all trees are unique, so is every product from the tree. You can, therefore, never find the structure and veins precisely identical to another knob, making each product unique. Execution and graining may therefore differ slightly in color.

Knob T Crossing fits well in the kitchen, wardrobes, or chest of drawers. Match with Handle Crossing for a uniform expression throughout the home.

Dimensions & assembly

| | |
| --- | --- |
| Length: | 50 mm |
| Width: | 11 mm |
| Depth: | 39 mm |
| Material: | Wood |
| Finish: | Black |
| Model: | Knob |
| Form: | T-shaped Knobs |
| Style: | Classic, Modern |
| Screws included: | Yes, fits cabinet front 16-19mm |
| Brand: | Furnipart |

Installation of cabinet knobsMount the knob with the included screws onto the desired drawer, door, or furniture using a manual screwdriver.

More info & care advice

More info

The strength of wood products can vary slightly depending on which part of the trunk the material is taken from. Therefore, we can not guarantee the strength when this type of product is mounted on an integrated fridge/freezer or dishwasher as this means that the product can be exposed to strong forces.

This product is made of wood, a natural material. When cleaning the product, we recommend that you use a clean, soft, wrung-out cloth. Avoid detergents, as this may adversely affect the product. In direct sunlight, light woods can darken and dark woods can fade.

Brand - Furnipart

Furnipart is a design company from Denmark that was founded in 1977. The company is more than just Scandinavian design, they collaborate with both Danish and international designers, to reach more people and broaden their target group. Their vision is to be first with the creation of new trends in the market. Furnipart is a company that has the environment and quality in mind and creates products that last over time, which you can both see and feel when you come into contact with their products.


Care advice

Wipe with a clean slightly damp cloth. Avoid detergents as they may contain chemicals that affect the surface negatively. Can also be cleaned with a microfiber cloth.

Delivery & return


Delivery information



Delivery to service point - UPS €5.33

Free shipping on all orders over £49

Delivery 3-5 days on stock items



Delivery to service point - DB Schenker €5.60
Free shipping on all orders over £49


Delivery 3-5 days on stock items


Please note that the delivery time is based on the products you have ordered, on our website, an approximate delivery time is shown for each product. This is the delivery time that applies unless otherwise stated.

Return information


Beslag Online offers a right of withdrawal for 60 days, valid from the day you received your goods.

The goods need to be returned in an unchanged condition in order for you as a customer to receive full credit. We do not offer any free returns as part of our environmental thinking, there is a return fee of €5.