Toniton Circular Knob - Blue
Our lowest price 1-30 days before price reduction:
BUY TOGETHER WITH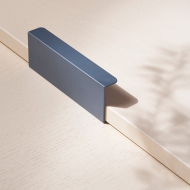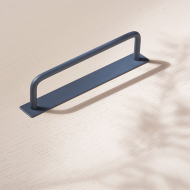 Free delivery over €49
60 days right of withdrawal
Hard to decide?
Order your favorites and test which products fit best.
You always have 60 days to return your products.
Description

Knob Circular in blue is a timeless knob in Toniton's selected colors. Give your existing fronts in the kitchen a beautiful color accent. Circular fits just as well on the kitchen doors as on a piece of furniture in the living room or on the wardrobes in the bedroom.

Most people find it hard to choose and match colours for their interiors. That is why Tekla Severin and her team at Toniton has invested years of research and tests to find a few impeccable tones. A set of colours that match regardless of how you combine them. The Toniton Colours are used in the design of all Toniton products. This means that the carefully selected colours of their knobs and handles matches perfectly with the Toniton wall paint, tiles, kitchen fronts, bathroom furniture, accessories and more.

Toniton Colours consist of six palettes - Blue, Creme, Peach, Grey, Green and Yellow.

Dimensions & assembly

Installation of cabinet knobsMount the knob with the included screws onto the desired drawer, door, or furniture using a manual screwdriver.

More info & care advice

Brand - Toniton x Beslag Design

Here you will find a unique range of handles and knobs from Toniton x Beslag Design. Toniton and Beslag Design have together produced handles and knobs in a timeless design. Many people find it difficult to choose and match colors for their homes. Therefore, Tekla Severin and her team at Toniton have spent years on research and testing in order to find the perfect colours. The result is a select few colors that match no matter how they are combined.


Care advice

Wipe with a clean slightly damp cloth. Avoid detergents as they may contain chemicals that affect the surface negatively. Can also be cleaned with a microfiber cloth.

Delivery & return


Delivery information



Delivery to service point - UPS €5.33

Free shipping on all orders over £49

Delivery 3-5 days on stock items



Delivery to service point - DB Schenker €5.60
Free shipping on all orders over £49


Delivery 3-5 days on stock items


Please note that the delivery time is based on the products you have ordered, on our website, an approximate delivery time is shown for each product. This is the delivery time that applies unless otherwise stated.

Return information


Beslag Online offers a right of withdrawal for 60 days, valid from the day you received your goods.

The goods need to be returned in an unchanged condition in order for you as a customer to receive full credit. We do not offer any free returns as part of our environmental thinking, there is a return fee of €5.